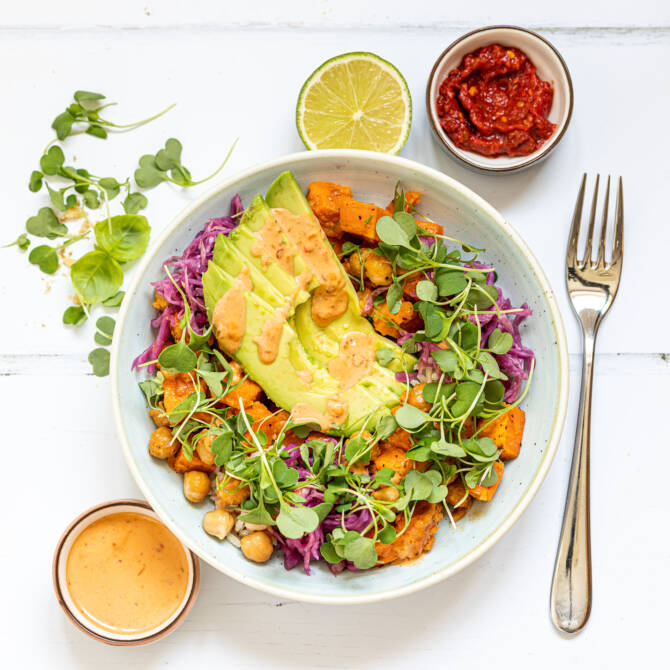 Buddha Bowl without sugar (vegan)
This vegan Buddha bowl without sugar provides harmonious balance at lunch time and recharges your batteries.
Nutritional information per portion
Preparation without sugar
Preheat the oven to 225 °C.
Cook the rice according to the packet instructions. Rinse and drain the chick peas. Peel and dice the sweet potato. Combine the chick peas and sweet potato, place in an oven dish or tray and season with olive oil and salt. Bake on the top shelf of the oven for approx. 20 minutes or until the sweet potato is al dente. If you would like the sweet potato to brown more, switch on the grill for a few minutes.
To make the sauce, combine all the ingredients and SteviaSweet Crystal. Season the baked chick peas and sweet potato with a little of the sauce. Divide the rice into bowls and add the avocado, sauerkraut and sweet potato. Garnish each portion with fresh herbs or cress and serve with the peanut sauce.
Back
Ingredients for 2 portions
| | |
| --- | --- |
| 70 g | brown/whole grain rice |
| 100 g | chick peas |
| 300 g | sweet potato |
| 1 tbsp | olive oil |
| 1/2 tsp | salt |
| 1 | avocado |
| 100 g | sauerkraut |
Hot peanut sauce
| | |
| --- | --- |
| 2 tbsp | crunchy peanut butter |
| 2 tbsp | cold water |
| 1 tbsp | lime juice |
| 1 tbsp | soy sauce |
| 1 tsp | SteviaSweet Crystal |
| 1 tsp | sambal oelek |
To serve
Back