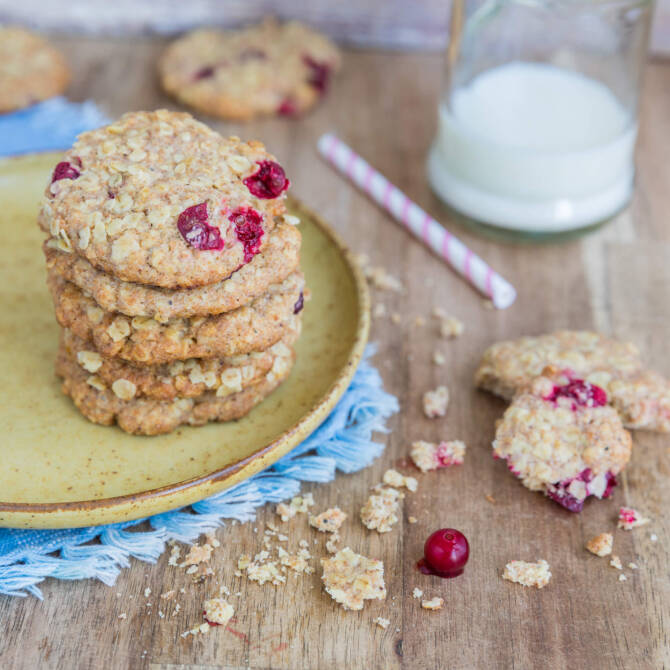 Cranberry Cookies
Be inspired by our delicious sugar-free SteviaSweet recipe ideas, and stay balanced while still enjoying your favorite dishes without excess calories!
Nutritional information per portion
Preparation
Preheat the oven to 175 ºC. Beat the soft butter and sweetener until fluffy. Add the egg. Mix the dry ingredients and add to the batter. Add the cranberries and mix until the mass is smooth.

Divide the batter into two sticks. Cut both sticks into 16 slices. Roll the pieces into a ball.
Dip the balls into the oatmeal and flatten on a sheet of baking paper. Leave room for spreading.
Bake in 175 ºC for 12-15 minutes until the cookies are light brown.
Back
Ingredients for 30 pieces
| | |
| --- | --- |
| 200 g | soft butter |
| 60 g | SteviaSweet Crystal |
| 1 | egg |
| 240 g | whole grain wheat flour |
| 90 g | oatmeal |
| 1 tsp | cardamom |
| 1 tsp | cinnamon |
| 1 tsp | ginger |
| 1 tsp | baking powder |
| 50 g | frozen cranberries |
| 30 g | oatmeal for garnish |
Back