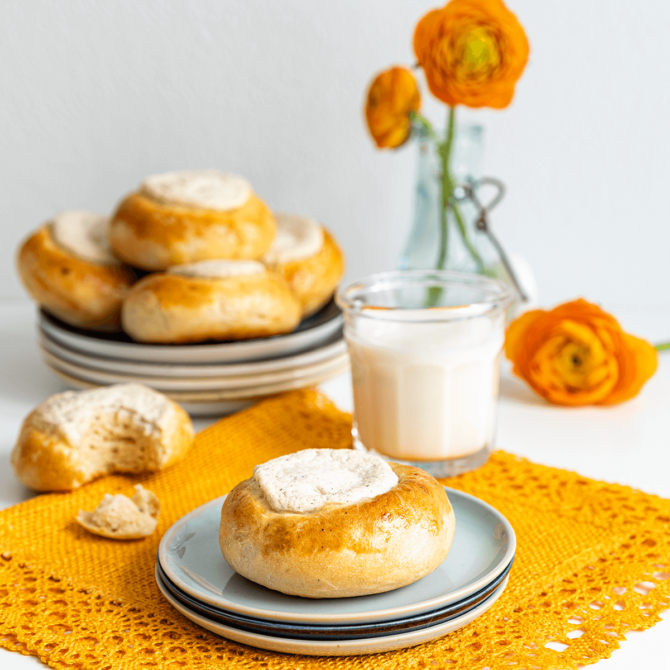 Quark filled buns without sugar
Rolls filled with curd cheese and sweetened with Stevia, plus the unique spice of cardamom. A great start to an enjoyable day!
Nutritional information per portion
Preparation without sugar
Heat milk at medium temperature.
Crumble the yeast into the milk, then add the egg, SteviaSweet Crystal, salt and cardamom.
Gradually stir in the flour and thoroughly knead the dough.
Add the soft butter with the remaining flour. The dough should be smooth.
Knead the dough until it is smooth and comes away from your hands and sides of the bowl.
Cover the dough with a cloth and set it aside to rise to twice its size.
Mix the ingredients for the filling.
Once risen, knead the dough until smooth. Divide into 16 pieces.
Shape into small, round rolls and place them onto a baking sheet lined with baking paper (leave some space between the rolls!).
Allow to rise again. Preheat the oven to 225°C.
Roll a tumbler in flour and press into the middle of the roll to create an indentation.
Coat the edges of the indentations with egg.
Fill the indentations evenly with the curd cheese filling.
Bake on the middle shelf of the oven for approx. 10-12 minutes.

Back
Ingredients for 16 servings
| | |
| --- | --- |
| 250 ml | milk |
| 25 g | yeast |
| 1 | egg |
| 40 g | SteviaSweet Crystal |
| 1 tsp | sal |
| 2 tsp | cardamom |
| 455 g | white flour |
| 75 g | butter (room temperature) |
Filling
| | |
| --- | --- |
| 200 g | curd cheese |
| 1 | egg |
| 25 g | SteviaSweet Crystal |
| 1 tsp | lemon zest |
| 1/2 tsp | ground vanilla |
| 1 | egg for coating |
Back