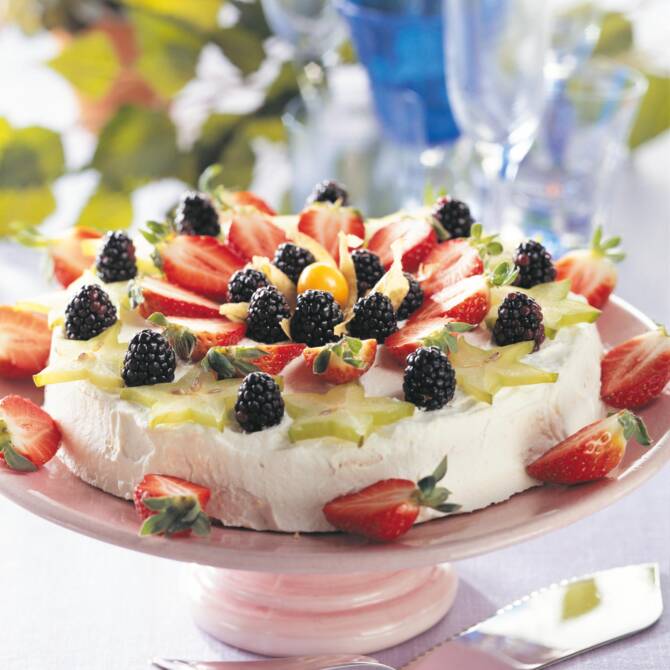 Summer Tart
Be inspired by our delicious sugar-free SteviaSweet recipe ideas, and stay balanced while still enjoying your favorite dishes without excess calories!
Nutritional information per portion
Preparation
Makes 20 pieces
Preheat oven to 175°C. Grease and sprinkle a spring form pan (24 cm diameter). Separate the eggs. Beat the egg yolks with the milk that has been pre-sweetened with SteviaSweet Crystal. Mix the white flour, potato starch and baking powder. Whip egg whites with an egg whisk. Alternately add the flour mixture and egg yolks to the bowl with the egg whites. Mix well. Place the dough into the spring form pan. Bake for 40 minutes on a lower shelf in the oven. Allow the cake to cool and then turn. Mix the milk, egg yolks, SteviaSweet Crystal and cornflour in a pan. Bring to the boil and stir until the mixture is thickened. Cool in a water bath. Add vanilla sugar and curd. Cut the cake with a cake knife into two flat slices. Place one of these slices on a flat plate. Spread the pureed berries and the vanilla cream on the pastry base. Place the other slice on top.
Back
Ingredients
Base
Vanilla cream
| | |
| --- | --- |
| 250 ml | milk |
| 3 | eggs yolks |
| 20 g | SteviaSweet Crystal |
| 2 1/2 tbsp | cornflour |
| 1 1/2 tsp | vanilla sugar |
| 100 g | low-fat curd |
Filling
| | |
| --- | --- |
| 225 g | strawberries, raspberries or blueberries (pureed) |
Decoration
| | |
| --- | --- |
| 250 ml | cream |
| Strawberries, blackberries, starfruit, physalis fruit | |
Back