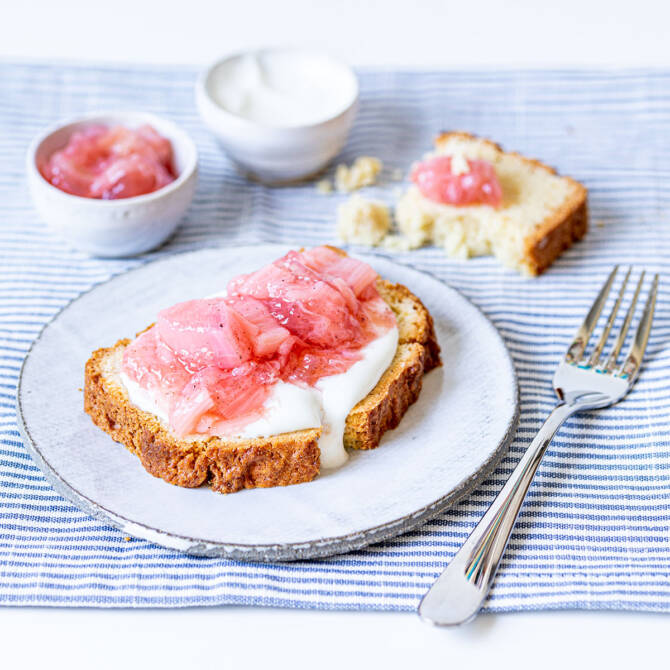 Vanilla pound cake with rhubarb compote sugarfree
You've never tried a vanilla pound cake like this, with rhubarb compote and stevia and a delicious scent of rosemary. Or have you?
Nutritional information per portion
Preparation without sugar
Grease a loaf or cake tin (approx. 1 litre) and dust with flour.
Preheat the oven to 175 °C.
Combine the butter, flour, SteviaSweet Crystal, vanilla and baking powder and knead by hand to form a crumbly dough. Mix the sour cream and egg. Add half of the sour cream mixture to the dough and mix using a hand mixer to form a smooth batter. Repeat with the other half.
Spoon the batter into the tin, smooth the top and place in the oven. Bake for 30 minutes. Reduce the oven temperature to 150 °C and bake for another 20-25 minutes. Remove the cake from the oven and allow to cool for several minutes before tipping out.
Wash the rhubarb and cut it into pieces measuring around 1 cm. Place the water, SteviaSweet Crystal, gelling agent and vanilla in a shallow pan. Bring to the boil, stirring continuously. Add the rhubarb, cover and simmer gently for approx. 10-15 minutes or until the rhubarb is soft. Remove the pan from the heat, add the rosemary sprigs and leave to infuse for 15 minutes.
Serve the cake as a dessert. Cut the cake into pieces and decorate with the yoghurt and rhubarb compote.

Back
Ingredients for 12 servings
For the cake
100 g
butter
250 g
white flour
90 g
SteviaSweet Crystal
1/2 tsp
ground vanilla
2 tsp
baking powder
3
eggs
100 g
sour cream
For the rhubarb compote
400 g
rhubarb
150 ml
water
90 g
SteviaSweet Crystal
4 g
vegan gelling agent
1 tsp
ground vanilla
2
sprigs rosemary
To serve
200 g
fat-free Greek yoghurt
Back